The Distributed Workplace Model
The Benefits
To the employer, Distributed Workplace:
Extends access to a wider range of potential employees.
Establishes an 'expanded' presence in multiple communities.
Creates a more balanced and supervised work environment within the extended corporate workplace resulting in better working conditions and conformity while delivering higher productivity and longer employee retention.
Assures that employees are located in secure, dedicated centers. Each center provides the fullest use of converged technologies and collaborative work processes for improved productivity.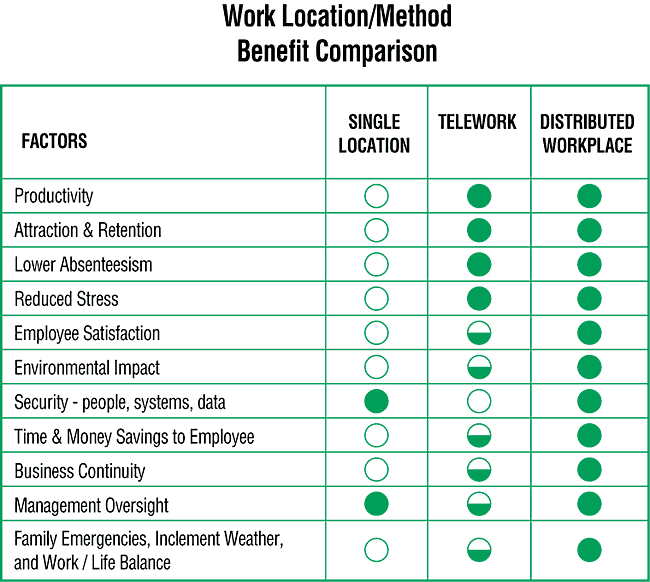 To the employee, Distributed Workplace:
Offers immediate relief in the cost, time and stress of commuting. The savings in time is equivalent to several work weeks per year. The time saved in less commuting and easier access to Distributed Workplace Centers expands the opportunity for ongoing training and education.
Provides professional technology support.
Allows employees more leisure time to spend with their families.
To the community, Distributed Workplace:
Provides reduced commuting expenses which convert 'gasoline dollars' into 'local economy dollars'.
Creates access to more job opportunities.
Creates new jobs for information and communication technology workers to build and maintain the network infrastructure.
Opens up opportunities for part-time working parents, students, and the physically handicapped.
Provides a secure center for other community services such as long distance learning and telemedicine.
To the larger metropolitan region, Distributed Workplace:
Offers a specific approach to reduce the number of long distance commuters by substantially reducing vehicle miles traveled resulting in more effective traffic demand management. By shifting the primary work location for a percentage of commuters closer to their respective living communities and outside 'chock points', a more rapid, permanent, predictable and consistent reduction in vehicle miles can be achieved.
Offers an accelerated solution as compared to other methods of access, such as, highways or mass transit.
Provides a more manageable and responsive organizational structure in times of accidents, emergencies, and disasters. Deployment is a proactive approach to emergency preparedness.